BirdWeb: Seattle Audubon's Guide to the Birds of Washington State
Bird of the Week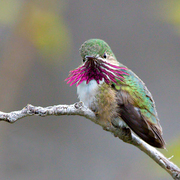 Weighing less than a dime, the Calliope Hummingbird is the smallest bird in North America north of the Mexican border.The species breeds in brush-lands, dry open forests, meadows, and openings on the eastern slope of the Cascades. The Calliope Hummingbird winters in central Mexico, thus making it the smallest long-distance avian migrant in the world.
Birding Site of the Week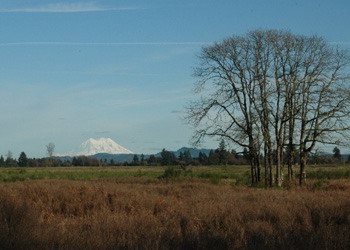 Scatter Creek is a clear, cobble-bottomed salmon-bearing stream. Check the grasslands (a globally rare glacial outwash prairie) for Savannah Sparrows, Western Meadowlarks, Violet-green and Tree Swallows, Northern Harriers, and American Kestrels. Head for the oak woodlands for a chance to see Pacific-slope Flycatchers, Black-throated Gray Warblers, Warbling Vireos, and Lazuli Buntings.
Get Involved with SAS
Seattle Audubon has numerous resources available to you.