BirdWeb: Seattle Audubon's Guide to the Birds of Washington State
Bird of the Week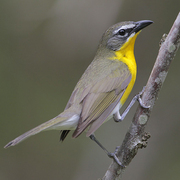 The Yellow-breasted Chat is a special warbler: it's the largest wood warbler, it has an unusually large bill, and males and females look the same. To find this secretive bird, visit dense vegetation around streams on slopes of the east side of the state. Listen for its distinctive song. (Check it out on BirdWeb first!)
Birding Site of the Week

Take a trip to Bowerman Basin and marvel at the sheer magnitude of bird migration. Tens of thousands of shorebirds - from Black-bellied Plovers to Red Knots and Western Sandpipers - stop to refuel at the food-rich mudflats of Bowerman Basin on the way to their Arctic breeding grounds. Check the tide tables and arrive a couple hours before high tide to watch the flocks come in. A spotting scope will be helpful.
Get Involved with SAS

Seattle Audubon has numerous resources available to you.